Due to the special situation with the so-called corona virus, it is currently not allowed to send hazmat suits, protection suits, protective masks and protective gloves outside of the EU.
Due to limited capacities in the international traffic deliverings of all items to the USA are no longer possible. I ask for understanding!
There are no products in your shopping cart.
You are here:
Marigold rubber gloves
Marigold rubber gloves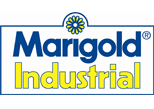 We are selling Marigold rubber gloves in all specifications: medium (1,1 mm) and heavy (1,5 mm)
Please have a look at the
product information sheet
!